Experience the Thrill of Hog Hunting in Texas
We offer you an exciting opportunity for hog hunting in Texas within your budget, create hunting memories with friendsand family.
Here at Cactus Creek Bow Hunting, we strive to make sure the hunter has multiple opportunities per day to harvest a hog. This is accomplished by first making certain that the ranch hog population is well stocked. We also make sure that all stands have clear shooting lanes and that their silhouette is broken up with background trees and foreground camouflage.
In the mornings, the feeders are timed to activate approximately 30 minutes after first light and 45 minutes after first light. In the evening, they are times to activate approximately 1 hour before sunset and 30 minutes before sunset. This helps you to pattern the hogs so you can get to your stand in plenty of time to let your surroundings calm down.
Even for those of us that have been hunting for a long time, it is always very exciting to hear then see the hog come into shooting range. At this point, it is up to you and the practice you have put in to make a good shot. My recommendation is to wait for the slightly quartering away shot.
Why do hunters keep coming back TO Cactus Creek Bow hunting Ranch?
Cactus Creek Bow Hunting Ranch is a high fence ranch offering affordable archery hog and exotic animal hunts for 20 years.  We are located in Nixon Texas about an hour away from Austin and San Antonio
Texas and about 2.5 hours away from Houston Texas.
The ranch has 8 elevated stands each set up with an auto feeder.  The feeders will activate at both the morning and evening giving the hunter a great opportunity to harvest an animal. Four of the elevated
stands are two man stands.  These stands are fantastic for father/mother, son/daughter hunts which will
give you memories of a lifetime.  They also work excellent for videoing your buddy's hunt or your buddy
videoing your hunt.
To assure you and your group have the best experience we can provide, we only book one hunting group on the ranch at a time. This ensures you will not have to compromise your hunting style for others.

We have a comfortable bunk house that sleeps 13 with a full Kitchen and a full bathroom. The town of Nixon is 5 minutes away from the ranch. Some businesses in town include a grocery store, hardware store, fuel station, fast food, a breakfast dinner, a BBQ restaurant and an auto parts store. This is convenient if you need to pick up some supplies during your stay.
What comes with your hunting package?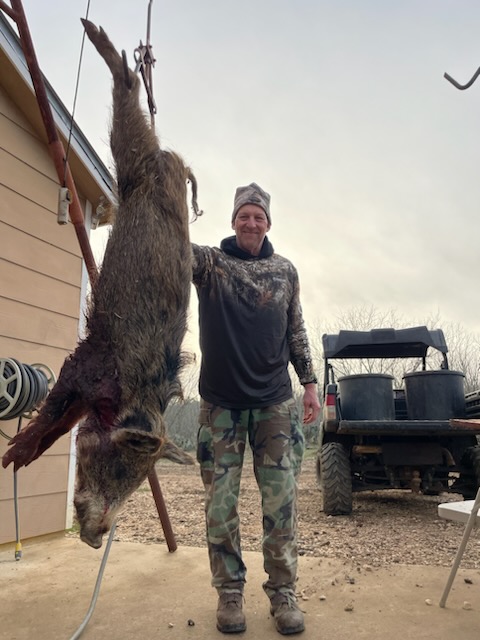 Hog Hunting: The Best Strategy
Is going on a hunting trip every year getting old and uninteresting for you? Do you want an ordeal that will put your abilities to the test and force you to grow? Try your luck at hog hunting instead. Our professional guides will make harvesting these evasive animals a breeze. When you can come with us on the ultimate hog hunting excursion, there's no reason to go on any other kind of hunt. Schedule a visit, and let's hunt some hogs!
The Ultimate Hog Hunting Experience!
Looking for a hog hunting experience that's guaranteed to be full of excitement? Look no further than "Cactus Creek Bow Hunting" – the ultimate experience of hog hunts in Texas! You will experience a thrilling adventure hunting the biggest hogs on the ranch. With a game rich ranch, we know you will have a hunt that provides you with a lifetime memories. So don't settle for a mediocre hunting trip – come join us and get ready for the hog hunting adventure of a lifetime!
Hog Heaven: Timing Your Hunt for the Most Epic Adventure
Hog hunting in TX can be done anytime that you want, with no specific time or season that is recommended. It is an activity that is open throughout the year. let's not forget the time of day – early morning and late evening hunts are when hogs are most active and ready for a good chase. Plus, who doesn't love a good sunrise or sunset? Trust us, it's a sight to behold. So, let's get your hog hunting in TX on the calendar and make sure you get the most epic adventure ever!
Frequently Asked 
Questions ( FAQ's )